If you are into girl power, then it doesn't get any better than Jane Addams. I shamefully admit that I knew very little of this renegade change agent before author Suzanne Slade's manuscript, Dangerous Jane (2017, Peachtree Publishers), landed in my studio, and I will forever be thankful she has come into my life.
For those of you who are trying to dig through memories of high school history class, Jane is widely considered the "mother" of social work. Born in 1860, Jane grew up in a family was of substantial means and social status (her father John Huy Addams was a successful businessman and active republican party senator, sharing a personal friendship with Abraham Lincoln). Yet despite living during a time when women were expected to politely follow a traditional path, Jane brushed off these conventional ideas to blaze a trail of her own in social reform, founding Hull House with Ellen Starr in Chicago in 1889 – our nation's first ever settlement house. As if that's not enough of a life's mission, she became the first female president of the National Conference of Social Work, was co-founder of the ACLU, established the National Federation of Settlements and served as president of the Women's International League for Peace and Freedom. Oh and by the way, she also won a medal called the Nobel Peace Prize (the first girl in our country to achieve that)!
So when tasked with illustrating the account of this woman's life, naturally I very much felt a sense of responsibility to honor her legacy. It was vital I do a lot of visual research of the real people and places to refer to. Thankfully there is an abundance of photography of the immigrant population at the time. In addition to social activists like Jane, the world of photography was experiencing a similar movement exposing the grittier aspects of society – tackling issues of poverty, child labor and other social injustices with dynamic an emotionally moving images.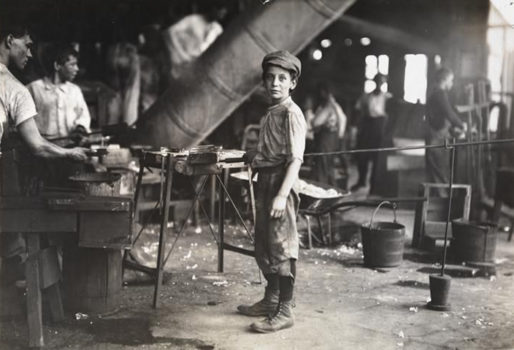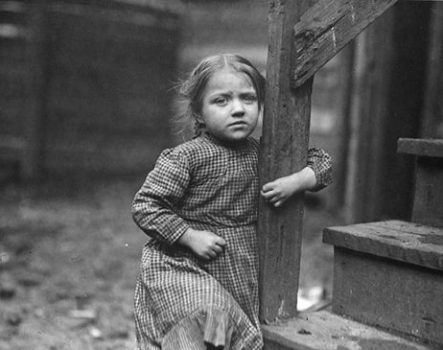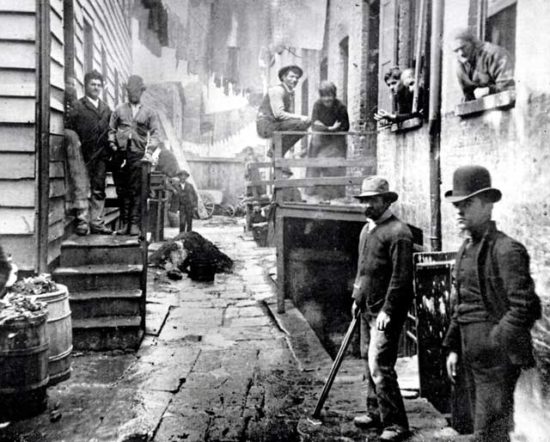 I pasted many of these characters up on my studio walls so I could just live with them throughout the process.
From this abundant pool of people I had the perfect "casting call." Each time I found a person that spoke to me through these photographs, he/she would become a character in the book.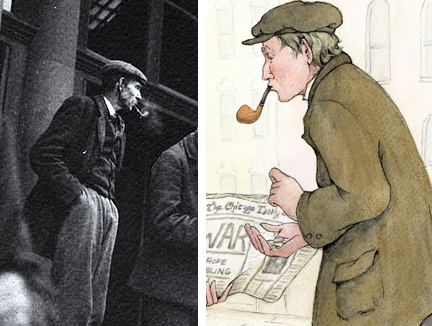 The same went for spaces. These dilapidated environments of Chicago's poorest neighborhoods were helpful in creating the scene when Jane encountered poverty.
Depicting the Hull House seemed especially intimidating, mainly because this home still stands today as a museum on the campus of University of Illinois Chicago. So I made a point to visit the museum and walk the halls and grounds. Nothing ever conveys the feeling of what it's like to physically be there, to hear the echoes in the halls or the sound of the old staircase as I walked up and down, the smell of the old wood, and the smallest details.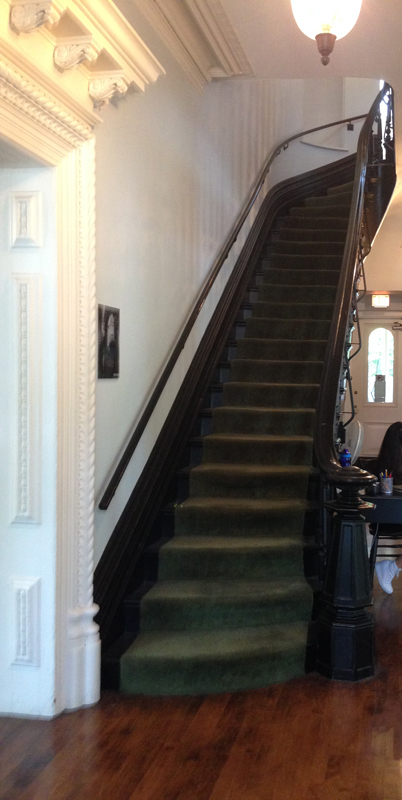 While I was at the Hull House museum gift shop, I encountered a book that immediately caught my attention – Architectural Encounters: Historic Preservation and the People's History. The cover caught my eye with the blueprint renderings of the house and immediately me inspired to utilize this information into the Hull House spread.
I did not hesitate to pick up the book and buy it – just for the cover alone, but unfortunately the book didn't offer all the angles and details I wanted. So I went in search of the original blueprints of the home through the university. UIC's Office of Planning and Special Collections & University Archives were of great help – they were so gracious assisting me and providing me with an abundant supply of additional images! Here are just a few examples: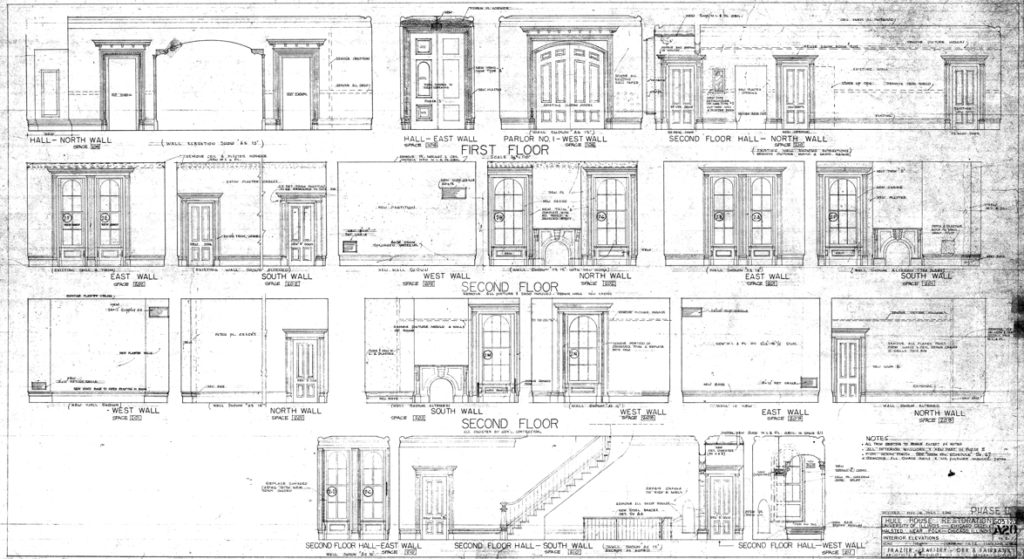 One of the most striking aspects to me was the beautiful wallpapers of William Morris that adorned many of the walls. Jane's bedroom, lovingly preserved in its original state, was so striking with the its design by William Morris' daughter, May Morris. This welcoming room convinced me that green should be her signature color throughout the book.
In fact, many of the Morris illustrations ended up serving as inspiration for the aesthetics and color palette of the book.
As I now take down the photos on my walls, I'm shocked at how melancholy it is to finish a book and have to move forward. You live with these characters and they become a part of your life for a brief intense time, then quietly and unceremoniously drift away. Like the way Richard Parker leaves Pi stranded on the beach in that beautiful novel, Life of Pi. But there is great comfort and pride in knowing they will go out into the world and live forever.
I'm so thankful to Peachtree Publishers, who believed in me, and to Suzanne Slade for her brave decision to shine a spotlight on this unsung hero – especially now, when our world desperately needs more Dangerous Janes. In honor of her release, I've asked Suzanne to share this blog with me by answering a few questions:
__________________
1) There aren't many picture books out there about Jane Addams and so this will be the first time many young readers are introduced to this brave woman. What do you hope children will gain from learning about Jane's life?
Surprisingly, there wasn't a single picture book about Jane Addams when I began working on Dangerous Jane in 2013. Since then, only one picture book has released, The House That Jane Built, which shares how Jane co-founded Hull House.
Right from the start of this project, I knew I wanted to share Jane's tireless fight for peace, in addition to her work at Hull House. I thought it was important to highlight her peace work because it seemed most young readers and adults didn't know about her incredible contributions to world peace, and the fact that she was the first American woman to win the Nobel Peace Prize. I also wanted to share how she was harassed and rejected (and ironically named "the Most Dangerous Woman in America") for simply helping people — all people in need. In Jane's day (and unfortunately now), society treated people of certain backgrounds/religious beliefs as "less than," but Jane knew every person was important and valuable. At Hull House she helped people from various backgrounds get along and respect one another, which strengthened her conviction that people from various nations around the world could successfully live in peace too. So to answer your question, my greatest hope is that Dangerous Jane will help readers realize that diversity and differences make the world a beautiful, exciting place, and that we should all do our best to live at peace with each other.
2) As a writer, there's a certain amount of faith and "letting go" to hand over a manuscript to an illustrator. What quality(ies) do value most in an artist to bring your stories to life?
Actually, it's never felt like "letting go" with any of my books. It feels more like a long-awaited "moving forward", because up to that point the story has only been black and white words. So it's always exciting when an illustrator joins the project to finally turn the words into a real book.
Since most of my books are nonfiction (except one so far), I value working with an illustrator who digs deep into research so that the illustrations not only bring color, life, and energy to the characters and story, but they also present the correct factual details. Speaking of which, I'm so grateful for the painstaking, in-depth research you did Alice! I can only imagine how daunting this process must have been with field trips, photo researching, interviews, etc. Your hard work and attention to detail is so evident in the scenery, clothing, hairstyles, Hull House rooms, and even the accurate newspaper headlines (and so much more!)
For example, it was so clever how you created the illustration of Jane leading the International Congress of Women in the Netherlands from a photo of that historic event in 1915. FYI, I'm still amazed by that gathering — 1500 women from 12 countries (both warring and neutral nations) worked together to come up with viable, practical ideas to end a war!

3) If Jane Addams invited any three people in history over for dinner, who would they be and why?
This is a really tough question, but I'll attempt a few guesses. I wonder if Abraham Lincoln might be near the top of Jane's dinner list. Lincoln was a friend of her father, John, and Jane recalled with great fondness in one of her books about the time her father shared his letter from Lincoln with her. Jane was only five when Lincoln died, so I imagine she'd enjoy chatting with Lincoln about the challenges he faced trying to bring peace during the Civil War, as well as reminisce about her beloved father.
Now if we're talking about anytime in history, perhaps Jane might like to meet some brave women of the future — women who like Jane, weren't be afraid to stand up for what they believed in as they worked for peace and helped struggling families. I imagine Jane would have a great time swapping stories and ideas with Malala Yousafzai, Madeleine Rees, Wangari Maathai, Ellen Johnson Sirleaf, Tawakkol Karman, or Leymah Gbowee to name a few.
(During Jane's adventuresome life she met many remarkable people she admired, such as Leo Tolstoy, John Dewey, Alice Hamilton, women peace delegates from countries around the world, as well as prime ministers, presidents, and even the pope!)
Please travel to Suzanne's blog post about Dangerous Jane at http://picturebookbuilders.com/2017/08/new-book-release-dangerous-jane-giveaways/