I recently posted about illustrating nonfiction and the use of reference and historical photos during the process, but what about fiction? It is still just as vital to use live reference when illustrating a work of fiction. Illustrations don't necessarily have to be "right", they just have to be believable. But in order for them to be believable, they must be based in life reference. I can't get inspired about making a drawing unless I have something from life to set my imagination into flight. Achieving this balance between reality and imagination can sometimes grueling and time consuming, but it is the part of the process I love most.
In planning a Princess and the Pea work for Flat Out Under Pressure (Metropolitan Arts Council), I spent several days making drawings from life of my daughter posing for me.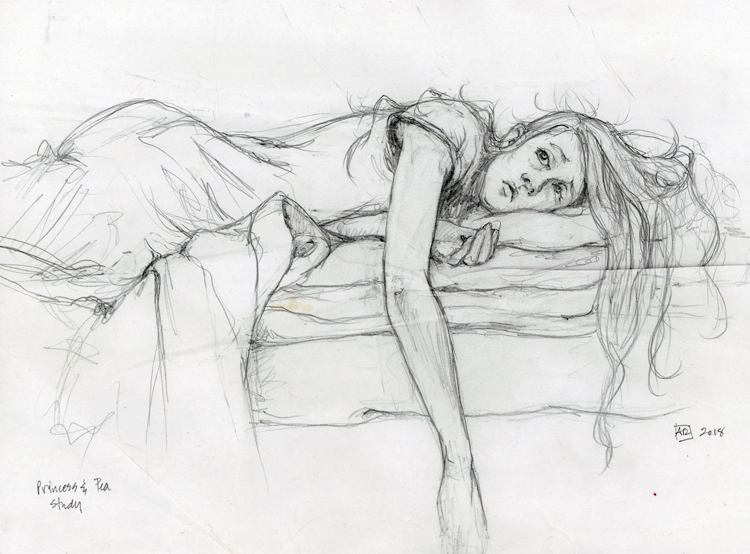 But while they were successful life studies, I still wasn't happy them. They all just looked like a portrait of a sad girl and didn't speak the language of children's book to me.  Here, the character doesn't embody the right emotion and the pose is missing the element of humor and charm needed to really communicate.
After this, I put all my photos away, and drew from my imagination, fueled by the memory and experience of drawing the life studies:
It finally felt as though I had achieved the right balance of my own personal storytelling, mixed together with information gathered from the studies from a live model. This final drawing couldn't have been achieved without the initial studies.
The rest is smooth sailing. Flesh out the remainder of the composition (I use Photoshop and draw using brush tool the remainder of my idea):
Transfer to watercolor paper and paint:
The final framed piece in the show…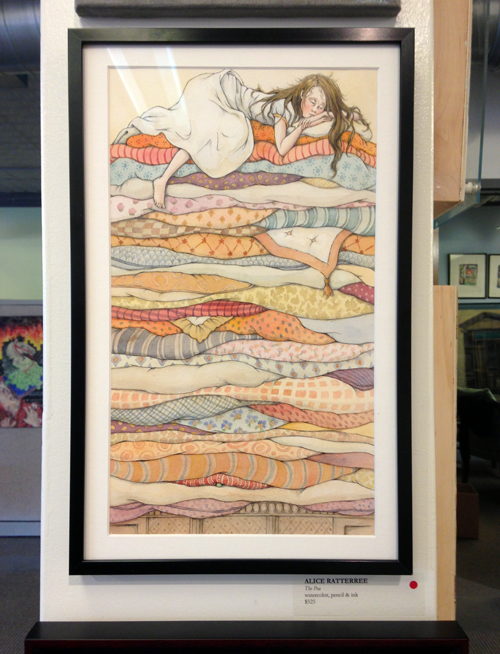 SOLD!