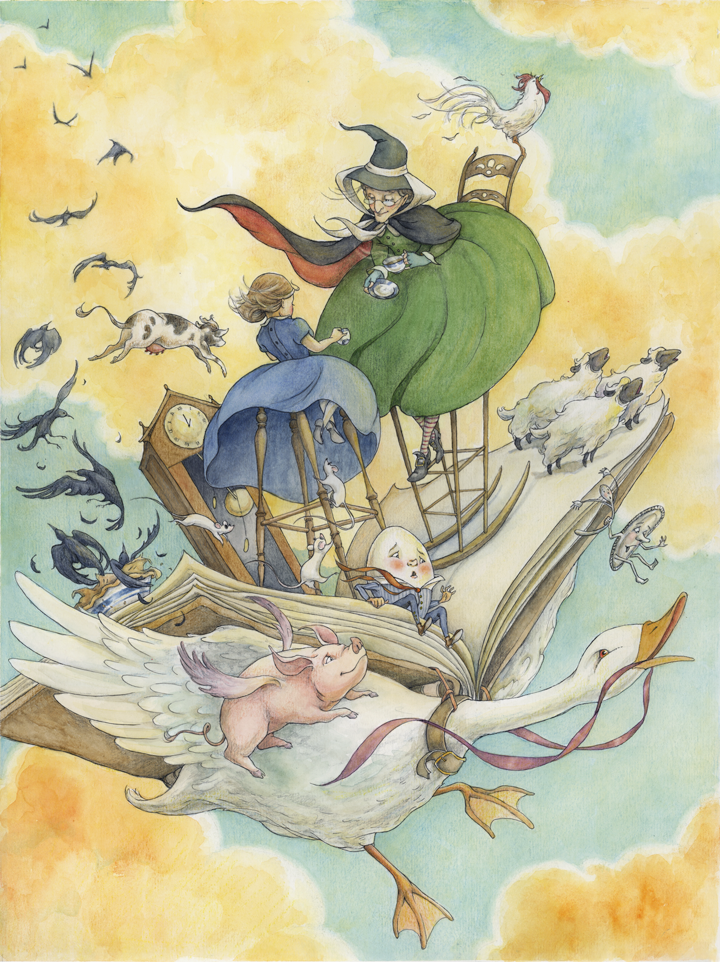 One of my favorite annual events is Metropolitan Arts Council's "Flat Out Under Pressure" (FOUP) contest. In its fifth year, this program intertwines visual arts and sound environmental practices in downtown Greenville.  FOUP provides eight recycling bins for paper, plastic and glass in various locations along Main Street, encouraging recycling among pedestrians while creating a different exhibiting opportunity for visual artists.
The event, which took place this year at the end of June, begins with a 24-hour art-making juried competition.  Each participant comes to the MAC office to have their surfaces officially stamped.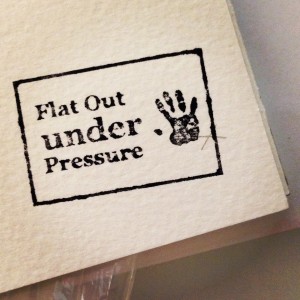 Artists may stamp as many surfaces as they like, but only one can return within 24 hours as an official submitted work of art.  Once returned, the pieces are then juried that afternoon with an awards reception held in the evening. In addition to receiving cash prizes, selected winners have the opportunity to choose two images of their work for reproduction on the downtown recycling bins. 1st place winner even gets a week-long trip to Italy to stay in the beautiful Villa Sant' Andrea!  (Here's to hoping for that one someday) The show is displayed in the MAC Gallery throughout the month of July.
So for the process: How to prepare for having only 24 hours to create a finished work of art?
It began with a thumbnail: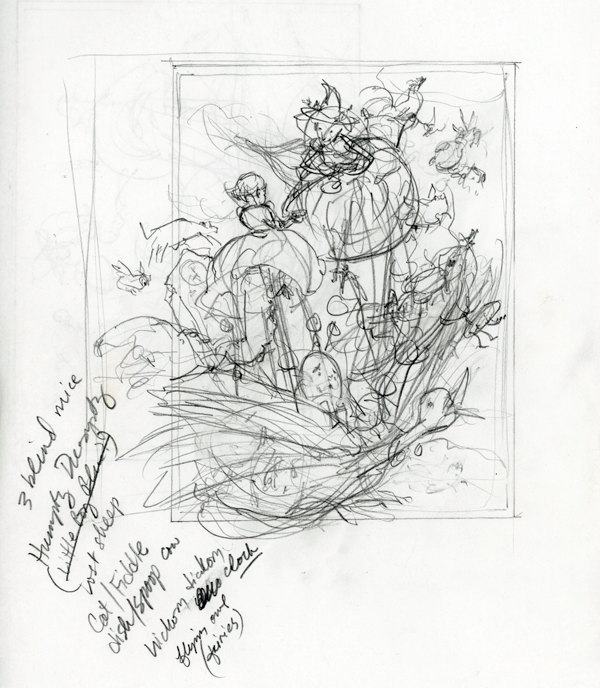 To keep the energy of the thumbnail, I scanned imported to Photoshop and then increased size of the thumbnail which was roughly 6″ by about 7.5″ to fit the paper I would use, 12×16″ – so about a 200% increase.
I then used tracing paper to trace the thumbnail and add detail…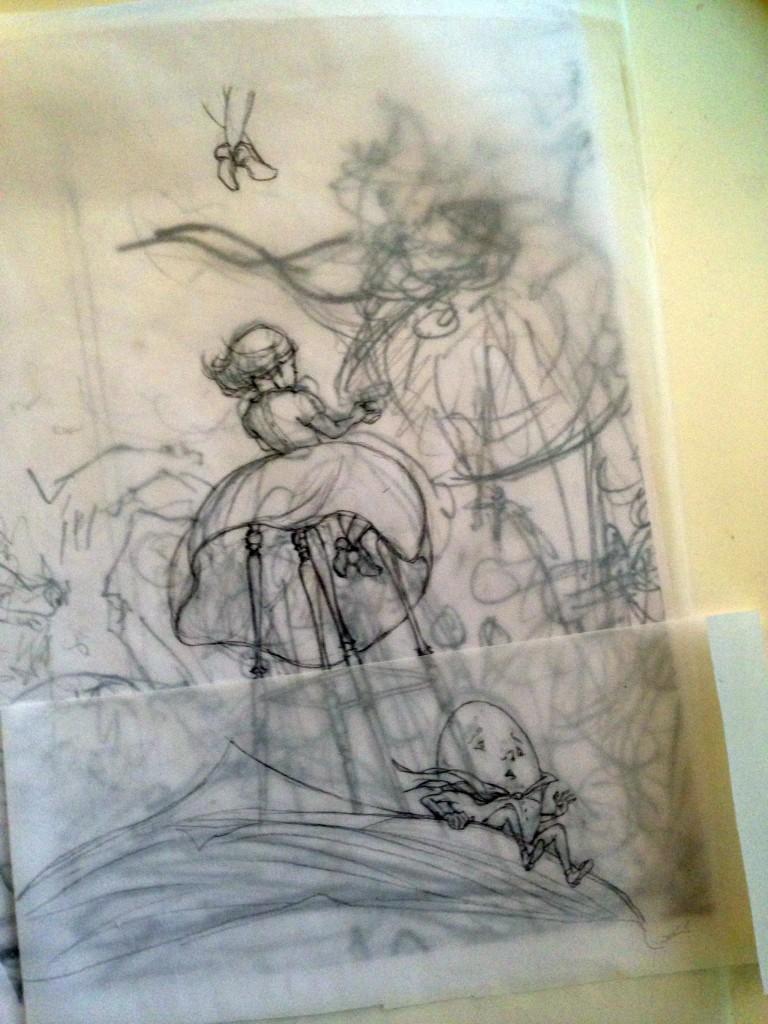 Since I didn't have tracing paper that was 12×16″ each figure or group of figures was worked on separately. I then scanned them into Photoshop and added each image carefully over the original thumbnail file in a separate layer. The result was a "final" sketch compilation: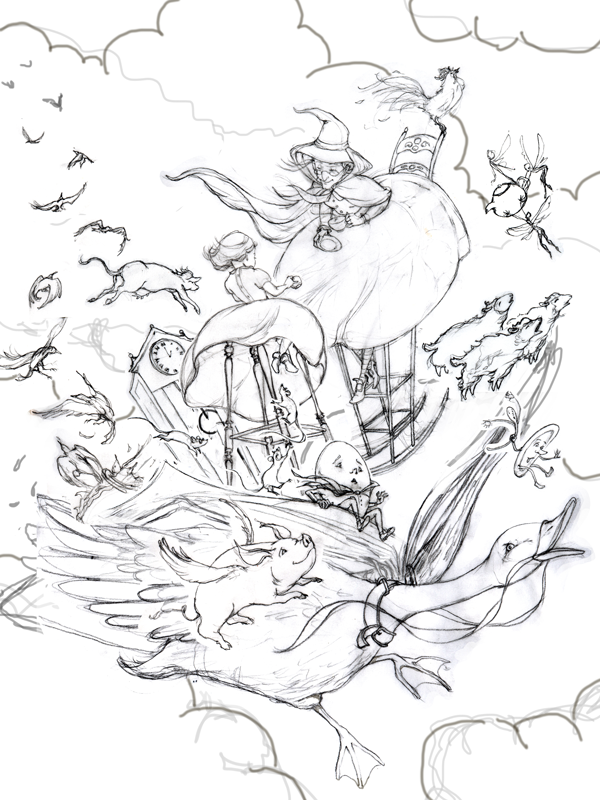 This was printed out to scale (took about 4 sheets of ltr paper, which I pasted together) All of this was prepped and ready to go before the event. The evening before the event I had fun transferring a few sections and working with the color palette.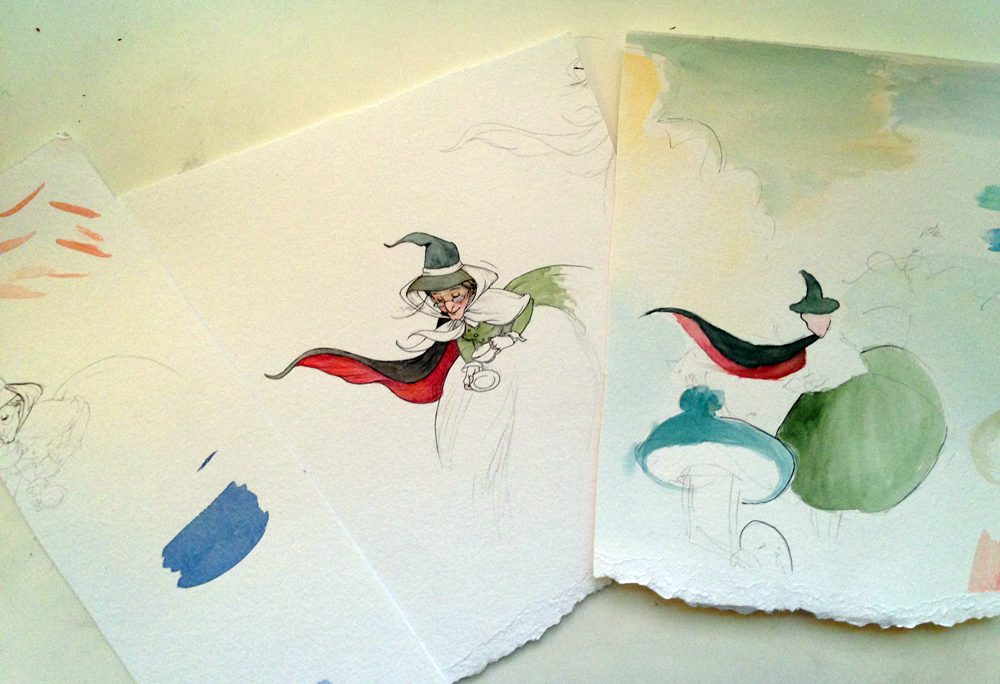 So once I had my surface stamped, I was able to promptly bring it home, and have a full 24 hours to transfer the sketch using a light box, ink and paint it. 24 hours goes by pretty fast even when you pull an all-nighter!

I usually like to feature an illustrator for every blog post, but today I have several. The following illustrators were selected for the annual SCBWI mentorship program. Take a moment to check out their amazing work!
Featured Illustrators: Kathryn Ault Noble, Ana Aranda, Suzanne Kaufman, Jeslyn Cantrell, Dorothia Rohner, Robin Rosenthal